REAL LIFE CENTER TESTIMONIALS
REAL LIFE CENTER TESTIMONIALS
Is your church or organization interested in bringing the model of the Real Life Center to your community?  We can help you do that.  Please contact Cathy Berggren at cberggren@reallifecenter.org
OUR IMPACT
2018
Pounds of Food Given to Families
Items of Clothing Given to Families
Pounds of Produce distributed from our Orchard and Garden
Mark your calendars to be a part of  #bejoy backpack and support the families we serve at the Real Life Center! On Tuesday, August 27th from 4:00 – 7:00pm, you can bring food donations to the Chick-fil-A Kedron Village location. Visit thejoyfm.com for more information.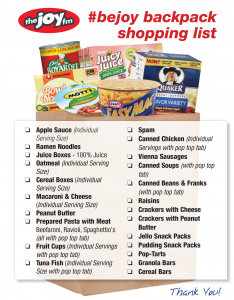 Tuesday Morning, August 13 (9:15-10:15 AM)  Class: "Working Toward Wise Decisions" with Melanie
Thursday Evening, August 15 (5:15-6:15 PM)  Class:  "Cooking Pantry Meals" with Lori
Monday morning, August 19th, 9:00-11:00 am
Benefit screening with a representative from the Atlanta Community Food Bank  to determine eligibility for Food Stamps, Medicaid and Peachcare, CAPS, Special Help for Medicare Recipients. Location: Real Life Center.  Bring Photo ID, Birth Certificate, Lease, Award Letter for Social Security and/or S..S.I., any other unearned inform, Pay Stubs for the past month (if applicable), Utility Bills, and any Medical Bills.  Call 678-553-5917 for more information.
Wednesday Morning, August 21 (9:15 – 10:15 AM)  Class: "Modern Day Job Search & Business Etiquette" w/Margarette
Thursday, August 22  10:00 am- 12:00 pm – Mobile Food Pantry 
Grace Evangelical Church,  164 Flat Creek Trail, Fayetteville, 30214
Tuesday Morning, August 27 (9:15-10:15 AM)  Class:  "Cooking in August" with Jan
Thursday Evening, August 29 (5:15-6:15 PM)  Class:  "More Spiritual Vitamins" with Frank
Monday, September 2  CLOSED in observance of Labor Day
Thursday Evening, September 12 (5:30-10:00 PM)  Harvest for Hope Gala
Tuesday Morning, Sept. 17 (9:15 – 10:15 AM) Class:   "Happiness vs Joy" with Matt
Thursday Evening, Sept. 19 (5:15 – 6:15 PM) Class: "Creative Cooking" with Lori
Tuesday Morning, Sept. 24 (9:15-10:15 AM) Class: "Fall Meals" with Jan
Thursday Morning, Sept. 26 (9:15-10:15 AM) Class:  "Unique Purpose & Empowerment" with Kimberly
Thursday Evening, Sept. 26 (5:15-6:15 PM) Class:  "Some Super Secrets to Success" with Frank
Wednesday , October 23 – Real Life Center CLOSED All Day – Staff Training
Neighbor Helping Neighbor
Recent Articles
Stay Tuned with Our Updates
signup for newsletter
* indicates required